RARE BIRDS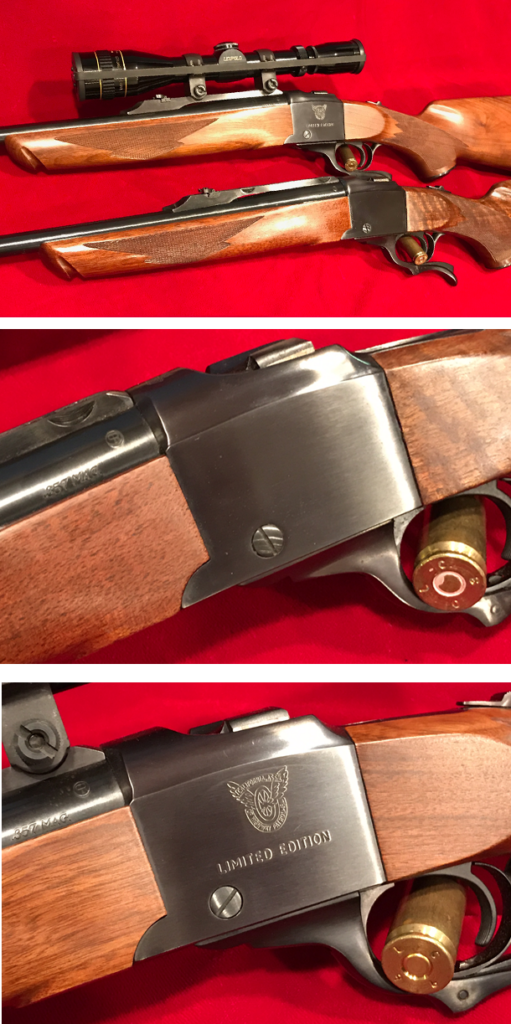 Ruger NO. 1 Single Shot Falling Block Rifle
The Ruger NO. 1 single shot falling block rifle has been considered one of the highest quality firearms ever produced In America and has been a crowd pleaser for some 40 years. There have been a few minor variations and certainly your choice of calibers but it was always generally considered a high quality target rifle or a hunting rifle and one would not expect to find it manufactured to accept a pistol cartridge such as the .357 Magnum, yet they do exist. Take a look at these two near identical Ruger number ones in .357 Magnum. These two rifles came out of the same factory about the same month in 1981 but they went in two completely different directions and there was only a single batch of them ever made. Read a few forums and the nay sayers will be there who support the notion that they never really existed in the first place. Well, yes they do and the photos show both variations and they appear real to me.
The initial purpose of building a hunting rifle in a pistol caliber came about as a result of the California highway patrol and their use of the 357 magnum cartridge in their Pistols. I guess at some point somebody thought it would be nice if they had a rifle with the same cartridge much like they did in the old days like Colt SAA's and the Iconic Winchester 1873 both chambered in 4440 Two guns / one style bullet. The initial order came from the California highway patrol association and although it was an exciting opportunity to own a very unique rifle orders still fell short of the one and only Production run of 500 units.
The ordered simply didn't quite stack up as as Ruger intended. Those ordered and paid for were appropriately marked with the highway patrol logo on the left side of the receiver and the words "limited edition" below the logo. The extras were unmarked and they were simply sold on the open market. So there you have it. Two variations out of the same batch, one marked with the highway patrol logo and the other with a clean left side receiver like every other Ruger number one. The odds of finding one of these is pretty slim. The odds of finding both are downright impossible!
Union Switch & Signal 1911 A1 Service Pistol
If you've ever seen Sam Peckinpah's 1969 movie The Wild Bunch, you know that the Colt 1911A1 Pistol in 45ACP is a classic. First used in World War One, the model changed very little over the years and is in still in production to this day. The world war one variant took its first and only significant change in the late 20's and was produced by a variety of manufactuers to support the war effort in WWII. One of the fewer produced models was produced by the Union Switch and Signal Company located in the Pittsburg suburb of Swissvale. The company's backbone was the production of rail switching products but many companies during WWII rallied their production to support the war effort and US&S was no different.
This particular pistol falls perfectly in the allocated Serial Number range assigned to the company. It is period correct and all the parts of this particular pistol are original to the gun. One of the common issues with collectible 1911A1 pistols is interchanged parts. Having been made by Colt, Remington Rand, Savage, Remington UMC, and even Singer Corporation, it is possible to have a hybrid pistol composed of different manufacters. Its takes a lot of research and a discerning eye to validate the originallity of one of these pistols. San Diego Gun Appraiser has that expertise.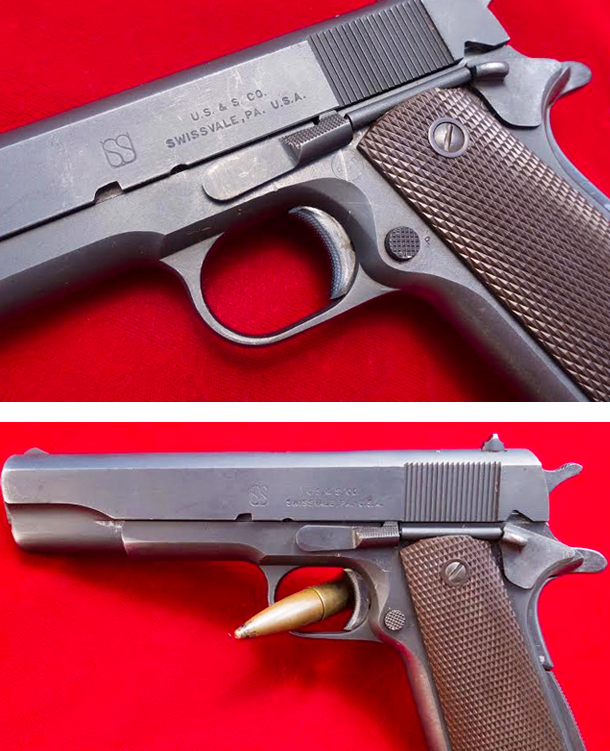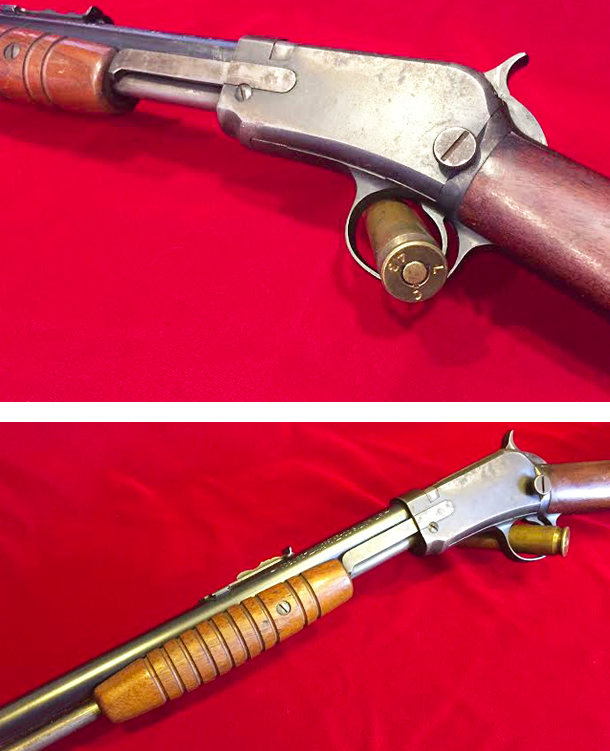 Winchester Model 62 Pump Action Rifle
Winchester Model 62 Pump Action Rifle Winchester is known for making tremendous rifles and the Winchster model 62 Pump Action Take Down rifle is no exception. Essentially a refined version of earlier pump action 1890 rifles, this particular rifle was produced in 1932 and represents the first year of production for the series. This particular rifle was found in all original condition, great stock and forearm, mechanically tight and fully functional. With its 3 digit serial number this rifle represents a tremendous find for the serious Winchester collector. When sold online this rifle fetched a premium result exceeding blue book value three fold. Features such as originality and year of production, make all the difference when appraising a firearm correctly.
Colt 1908 Semi Auto in .380 Caliber, Original Nickel w/ Mother of Pearl Grips
This iconic pistol is yet another Colt product designed by the famous John Browning and represents a further refinement of the original 1903 Colt pistol originally produced in 32 ACP. The 1908 variation took the existing proven design features of the 1903 and was produced only in .380 caliber also referred to as 9×17 or 9MM Kurz in firearms of european production. Produced in three distinct production groups or types, these pistols can only be differentiated by SN range and features. This particular pistol is original Nickle finsih with the correct mother of pearl grips. It is a late production type II variant with no barrel bushing and no magazine safety. Production year for this pistol books to 1928 and applying a correct value to this gun requires a correct determination of both production type and originality.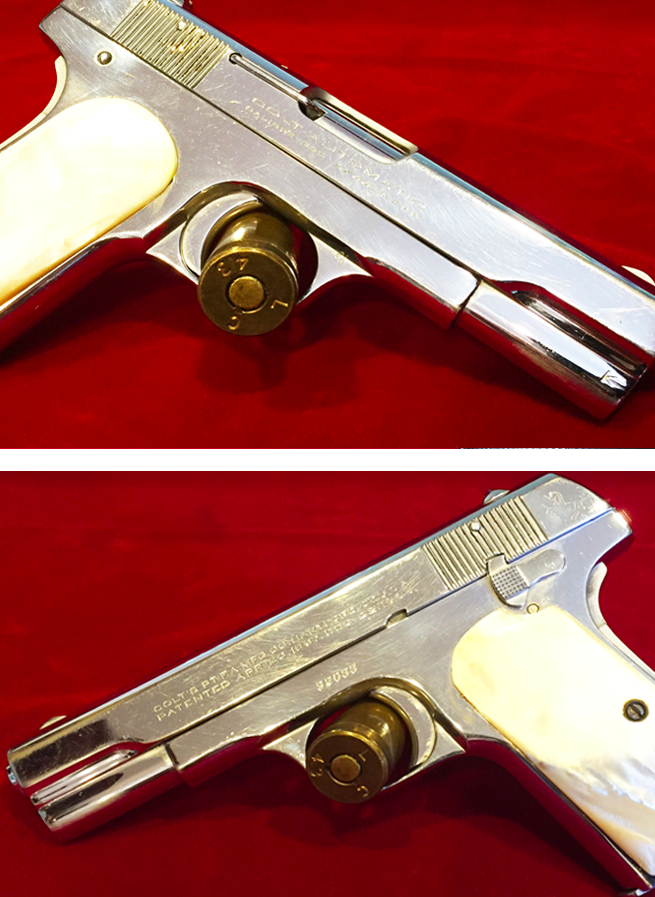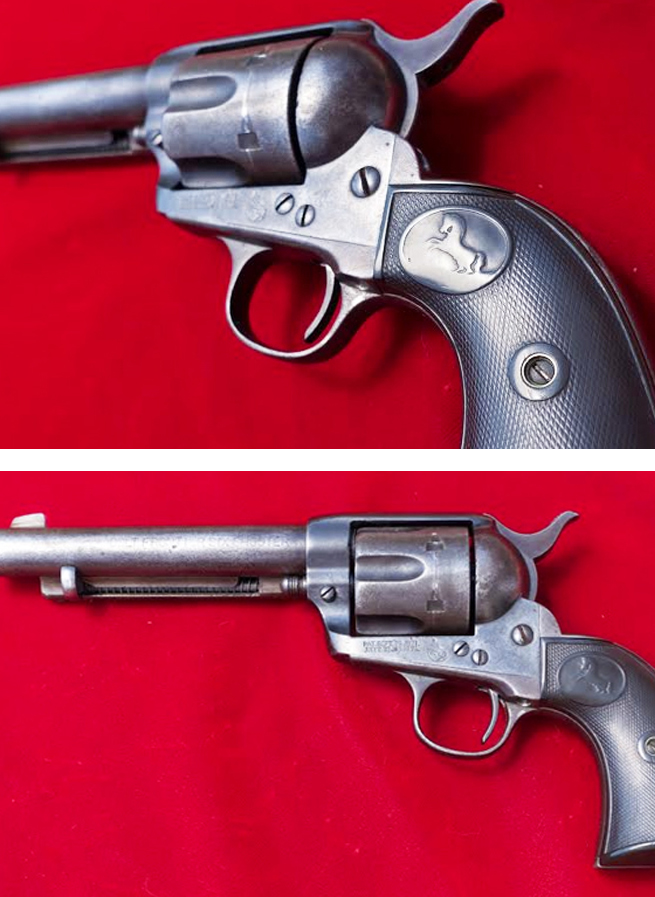 Colt Single Action Army Model 1873
This incredible 1st Generation Colt Frontier Six Shooter in 44/40 Caliber comes with an amazing history. This very original 1873 Model Colt Single Action Army was purchased by the current owner in the Los Angeles area, specifically from the estate of Harold Lloyd, silent film star. This famous movie actor was a huge star of the silent screen most famous for his role in "Safety Last," a romantic comedy released in 1923 and Lloyd was also a known cohort of Tom Mix. As relayed to the current owner, this gun, purchased from the estate of Harold Lloyd was originally owned by Tom Mix and then purchased by Lloyd in the 40's.
The gun is an Original Frontier Six Shooter in 44/40 caliber (Smokeless Frame) dating to 1905 production. Sporting an original finish, original grips, an original 5.5 inch barrel with the correct one line Samuel Colt address, and all original parts, Mechanically sound, the gun is in time, cycles and functions properly, minimal play in the cylinder. Bore is in good shape, no pitting or corrosion. Although the province is verbal only, it adds a nice backdrop to a historic and classic pistol.
Colt 1911A1 Commercial in 38 Super
So when you consider the rarity of original Colt 1911A1's you also have to consider the lesser produced variants of the already collectable series of well made Colt Pistols. The 1911A1 showcased here in 38 Super caliber is one such "rare bird". The 38 Super cartridge was seen as an improvement to the earlier designed .380 ACP and achieved a significant increase in both velocity and ballistic performance. When coupled with the already proven 1911a1 John Browning auto loading design, another superstar was born. First manufactured in 1928, production of the 38 Super continued on until 1970. The cartridge is a favorite today in competetive shooting and IPSC match shooting.
This particular 1911A1 38 Super Colt model was a late 50's production and is in phenomenal original condition with all original parts. This gun was well cared for, fired little if at all, never worn in a holster, and more importantly, never modified or upgraded by a "do it yourself" gunsmith who the gun collectors universally refer to as "bubba". With its high 90's original condition assessment, this pistol could only be improved upon by having the original box which is regrettably long gone.